The colder it gets, the more layers we need…this week I added leggings and a scarf.  The leggings pattern here will fit Little Darlings/Cheries and can be lengthened for H4H.  For 16″-18″ dolls, there's a tights pattern in the ballerina/ice skater set, the Maru pattern combo, and the Kidz n Cats fairy set.  (all available here) Just cut off to desired length to make leggings, which usually fall anywhere from just below the knee to ankle.  Stretch cotton  or fleece make perfect doll scarves because they don't need hemming and usually drape nicely.  Cut a scrap from your leggings remnants or add some color with another fabric.
If you'd like an "indoor" look, it probably goes without saying that adding a long-sleeved T underneath also makes a sleeveless dress work for colder times too.  This pattern can be adapted to make a nicely fitted long-sleeved T (Missing AG sleeve is here)
I also did a T for Maru and Friends and forgot to ever post it here or put on etsy or something.  It would look nice under the A-line dress for them too!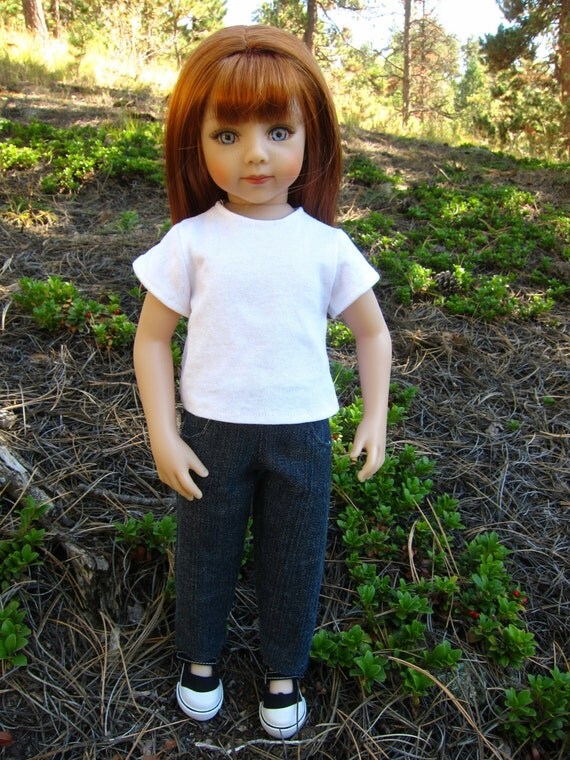 (jeans pattern available here)
I just love when you share interesting new things you've created with my patterns!  Sr. Sarah Jean made the dress below using the bodice from the basic dress (from this year's summer sew-along) (https://jenwrenne.wordpress.com/2014/06/13/summer-sew-along-part-2/)  and skirt from this: https://jenwrenne.files.wordpress.com/2014/07/pointed-yoke-a-line.pdf.  
I love the subtle contrast she got from using two shades of the same color