If you read this blog, I'm going to assume you like to sew, and if that's the case it's reasonable to assume you like textiles too.  Maybe you even occasionally create them yourself by knitting/crocheting/weaving, but for the most part, we get the vast majority of our textiles from a store, after the fibers have been processed, spun and woven by machines.  Those machines have developed to such a high level that a computer can control each individual thread to weave something as complex as a photo!
For much of human history, people needed to spin and weave cloth by hand.  As a spinner/weaver I had a revelation a few years ago looking at an Egyptian mummy in a museum.  Those yards and yards and yards of wrapping that looked so precise and perfect, had been not just hand woven, but hand spun on a drop spindle!  So when a new mummy exhibit came to the DMNS, I wanted to see it, if only for the textiles.  It was GREAT and I'd like to share it with you!
Egyptian mummy bandages were made of linen, and from what I've seen in museums, usually "singles" yarn.  They appear to be woven to the exact width needed; making me wonder if maybe weaving mummy bandages was a specific occupation, since so many yards of them were required for each mummy.  You can often see different layers, and I also wonder if lower-quality bandages were underneath, camouflaged by very high quality ones on top?
A real awakening for me was seeing the Peruvian mummies.  I adore textiles from Central and South America, and seeing them in their "pure" (pre-Spanish-influence) forms was exciting.  Most of the Peruvian mummy wrappings were singles yarn, spun a bit thicker than Egyptian mummy wrappings, but a few were plied, for example the lower part of the final layer of this mummy's wrapping: 
It's about the thickness of sport-weight yarn. We modern yarn users can simply choose from what suits our purpose at the yarn store, but a 2-ply yarn requires almost 3 times as much work to produce the same length of yarn, since you need to spin each ply separately and then ply them together.  Keep in mind all this was being done on drop spindles like those below: 
And now comes my favorite part of the entire exhibit:
Unfortunately, there's nothing for scale, so you can't see how finely woven this was, but the background compares to modern quilting cottons, with the bird motifs woven in brocade in something similar to a few strands of embroidery floss.  Another thing to keep in mind is that this was woven on nothing more complex than a backstrap loom!  All the bird motifs were placed in by hand.
When the conquistadores came, they completely ignored the amazing treasures being produced by highly skilled weavers, demanding gold instead.  Thankfully, the Peruvians preserved part of this textile heritage in their mummies.
This is a textile fragment from around the same era as the birds above from this book http://www.thamesandhudsonusa.com/books/the-andean-science-of-weaving-structures-and-techniques-for-warp-faced-weaves-hardcover that I'm reproducing:
As I weave it, I've been thinking a lot about the weaver who made it.  Who taught her to weave?  Why did she pick that weave structure, which is far more time/labor-intensive than some others she could have chosen?  Where did she get the pattern?  Was she making it up or copying an existing textile?  Did she spin the yarn herself?  Who was she weaving for?   Did she have to rip out as many rows as I have because of mistakes?  And finally, did she ever think that over a thousand years in the future her textile would end up photographed in a book to be replicated by another weaver she'd never met?  Although it's almost certain she was illiterate and had no way leave her words behind, her weaving now "speaks" to others across centuries and leaves a legacy few people can hope to achieve.
If you know how to do twill pickup or want to reproduce this in some other way that uses graphing (needlepoint, etc.) here's the chart I made based on the drawing in the book:
OK, and finally, a little bit about dolls! 😉
Since Santa brought me a new loom, I've been doing way more weaving than sewing, but I did receive the AGAT Nisha that I'd had on pre-order and she is just a GORGEOUS doll!  Her book wasn't available (at least I couldn't find it) to learn her story, so I had to make some guesses based on her name.  The name "Nisha" got its first hit as being from Sanskrit meaning "Night" when I googled it, and further research turned up:
Name Nisha In Arabic : نشا
Name Nisha In Bangla : নিশা
Name Nisha In Urdu : نشہ
Name Nisha In Hindi : निशा
From this I made a guess that she's probably of Indian descent, which meant I could dive into the amazing world of Indian embroidery and textiles.  I made her a salwar kameez from this pattern, which came out a few years ago, with a slightly modified neck and hemline: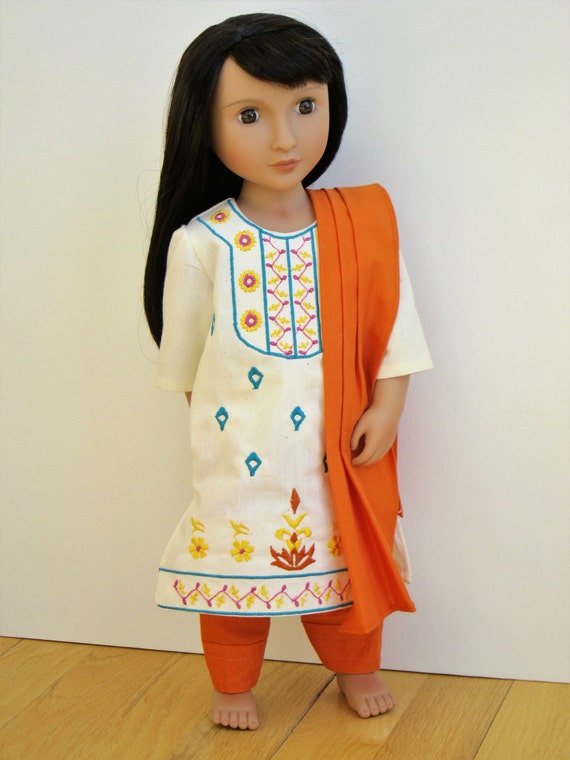 Even though I do have one, it's not easy to turn a 90 degree corner, so I used this method to hem her dupatta (scarf).
Want the pes files?  They are free with purchase of the pattern, just put in notes to seller that you want them.  If you already have the pattern, just hunt down your order number and email me that you want them!
The design on this kameez is also new and can be adapted to fit onto the H4H size by shortening the sides of the neckline.
You can see in the closeup the circles are sized to fit tiny sequins or silver beads you sew on by hand for a shisha-type look.
Another thing we know about her from the AGAT website is that she likes 1980s clothes, and I started a few outfits that are a) based on patterns/clothes authentic to the period but b) still attractive enough that I'd like them today.  This is the first one, which should be available next week (February 2):