Tag Archives:
cut and sew
A mid-week post?  Unusual, I know, but remember that little girl on "Annie" who walked around saying, "Oh my goodness, oh my goodness!"  I feel that way right now, but in a good way and I just had to share my happiness!
This all started because I wanted to dress my newest Sasha in the dress she came in, but our high altitude sun fades things terribly, even when they're only in indirect light.  I had visions of accidentally leaving her out on the sofa and the dress being ruined by the sun.  There were absolutely no fabrics at the store remotely like that one, so…what to do?  The obvious choice would be to silkscreen my own, but for such a tiny pattern it would be annoying to cut a stencil, and burning the screen (with chemicals and light) seemed a little silly when I only needed a small amount of fabric and would likely never re-use it.
And THEN I realized there are places that will print fabric for you!  And I wouldn't even need to convert from my favorite graphics format, I could just upload, pay, wait a couple weeks and boom!  There it was in my mailbox!  Kinda like magic… 🙂  A small amount is expensive, but costs go down the more fabric you buy, so I created 4 different cut and sew panels for myself.  
This is the one that started it all!  Although it would have been much easier to scan and reproduce the original exactly, the pattern I ended up making is a little different, because I wanted to make sure no one would mistake it for the "real thing" at some point in the future!  I also made a little bandana similar to the one Gregor from that era had with the light denim outfit.  It says "Gregor" instead of Sasha! 🙂
Then I created 2 A-line dresses with short sleeves in fabric designs based on actual 60s and 70s fabric,
The Mexican blouse was a no-brainer…it's one of my most popular patterns on etsy, but this version is even more detailed and requires exactly zero minutes of embroidering, coloring, etc.  Just cut and sew!
Saving the best for last!  Caleb is one of my favorite dolls.  He just seems to have a sweet, easygoing personality and will happily wear the same shirt for a year.  This is a dashiki, an African shirt that was extremely popular in the 60s and 70s.  You bought it either ready-made or as a panel to sew yourself.  I based this on a hybrid of about 10 "real" dashikis, simplifying the patterns a bit to have them still visible at such a small scale.  Then, just for fun, I added fabric for a bag that looks like it's made of kente and bogolanfini (AKA mudcloth)
Designing some of these was easy, others took much longer (about 5 hours to design and place all the little patterns on the dashiki to my liking).  I was quite pleased with the quality of the fabric and printouts, although you can see some of the text was a little "off".  The star in Wren*Feathers inexplicably moved over, but my greatest fear had been that the colored areas would feel like thick,  painted-on designs that you find in some cheap cut and sew panels or low quality calico.  Nope!  The fabric is 100% cotton and has a nice thread count.  It's also thin enough to be perfect for doll clothes!  Off to sew with more pix to follow!  And yes, there's a possibility I will offer these  cut and sew panels for sale in the future!
I'm a pinterest junkie, and it bothers me when stuff I love won't pin!  So if you're trying to pin the pix of the dolls, you can do it from here:
http://www.pinterest.com/pin/241364861255020055/  http://www.pinterest.com/pin/241364861255020045/
http://www.pinterest.com/pin/241364861255020040/
Original on the left, my version on the right.  It's lighter, I changed the flowers a little, and if you get up close, the color is much more even.

Apologies that not all of these will pin to pinterest…you can pin most of these pix from my flickr page here:  https://www.flickr.com/photos/67465307@N08/
and here's a link directly to the pin for the dress http://www.pinterest.com/pin/241364861254932736/
This dress was originally produced as a cut and sew fabric panel for Sasha around 1979.  But you lost another ebay auction and can't make it…or maybe you have the fabric panel but don't want to cut into it because it's a collector's item.
Well, get out your fabric markers, we're going to make it!  What?  You don't have a Sasha?  Copy it at 77% to fit dolls like Corolle Cheries, and an AG size is included also.
I LOVE seeing photos of what you've done with my patterns!  It's been a while since any fairies have appeared here, so I'm happy to present this one from Hawaiikiki on etsy: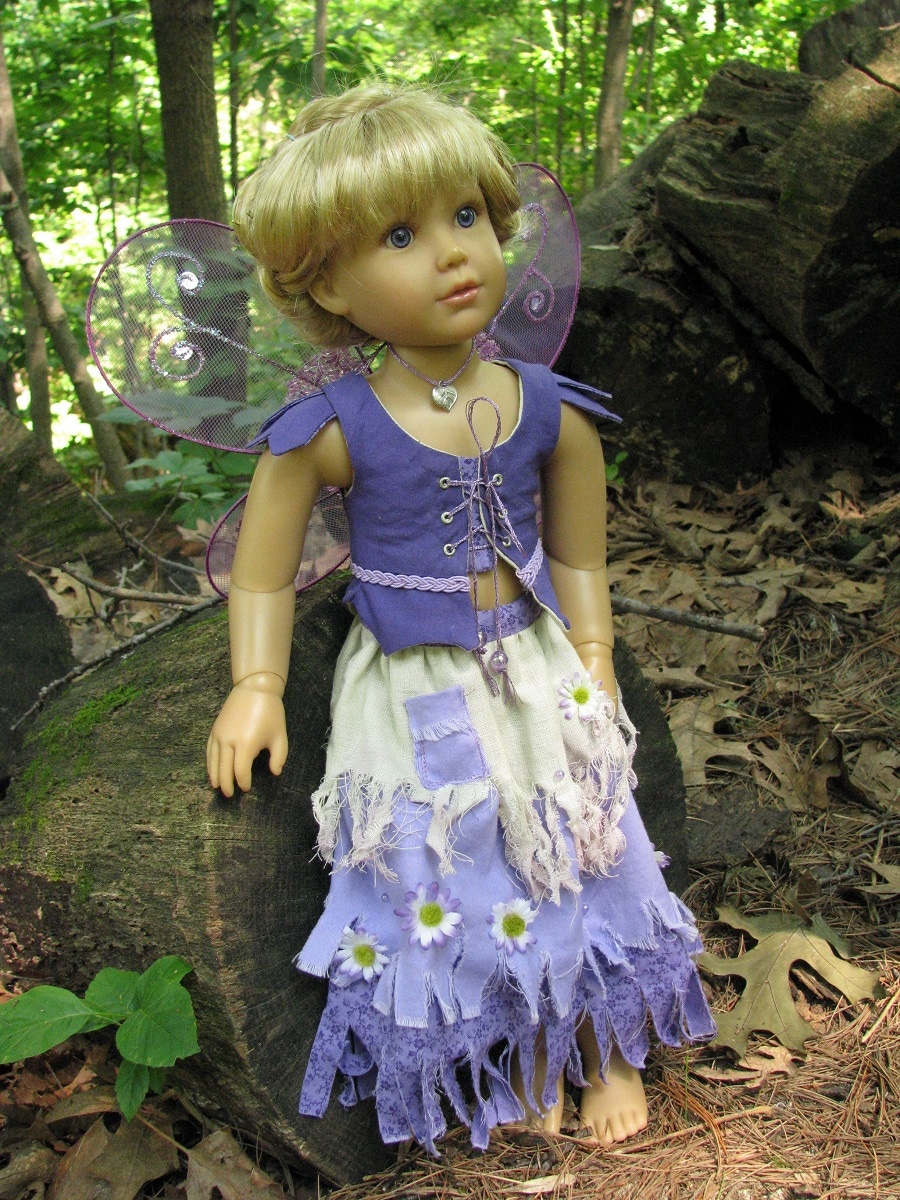 You can see a photo story (with text!) she did about it here: https://www.facebook.com/Mimijames51/media_set?set=a.10202481704947407.1073741840.1338264043&type=1
What else is new in the wren's "nest"?
Remember this?  I got a request for the smocked pattern on the left, but you may also have seen from a few weeks ago I've been doing a bit of machine smocking lately.
Well…these two things converged and a new pattern emerged.  Versatile?  Oh my goodness, yes!  Easy?  Well, if you have an embroidery machine, you can smock in the hoop in a fraction of the time with a TON of free designs included with the pattern.  Pattern and embroidery designs available here
Click to enlarge!  These are just some of the designs included in the pattern – see all the smocking designs here
Low yoke with or without easy collar and short puffed sleeves
High yoke with rolled collar and puffed sleeves, low yoke without sleeves
Shortened skirt, high yoke and long sleeves
And just for fun I made it without smocking too…Sasha's having an "Anne of Green Gables" phase 🙂
It also includes a smocked in the hoop bishop-style dress you can shorten into a blouse and make with short or ruffled "angel-wing" sleeves
Welcome Sasha 105 (long green dress) who was an anniversary present last week from my husband of 17 years!
I made her a little "Bauernkind" (Farm Child) Ensemble.  Shhh! don't tell her! but it is available for sale.  It's $45, and if you save me the trouble of listing on etsy/ebay, I'll pay shipping.  Interested?  Contact me at jenniebagrowski @ hotmail.com (remove spaces)
Includes red checked drawers that close with a drawstring (no elastic to wear out!), chambray skirt and muslin petticoat with featherstitching sewed onto one waistband and closed with hook and eye, black gingham apron, white cotton blouse with functional, slightly mismatched buttons, and shawl made from handwoven fabric.  Hat,  shoes, and doll NOT included.