Are you caught up with the last three weeks?  Great!  Because this week there are not one, but TWO sandal variations!  The first one is so simple, you really have no excuse for not making it.  The second one is more delicate and dressy and requires you to have cutting and gluing skills at the "SuperCrafter" level or beyond due to the tiny pieces you'll need to cut out and fiddle with.  It was based on a tropical-looking sandal I found on Pinterest, with hot pink/lime/yellow straps, but when I saw it, my first thought was, "That's a 4th of July sandal if I ever saw one!"  Obviously you can make it in all one color if you want.
Since it was pdf-ified in a different way than I normally do it, I have to just cross my fingers that it comes out OK and all the pieces print to size.  PLEASE measure the inch box, check it by overlaying the soles onto the fisherman sandal pattern and maybe even wrap the pieces around your doll's foot to check the sizing before you start cutting into your fabric.    It will work for Wellies (obviously) as well as Paola Reinas, Cheries, etc.  It's in only one size, since the curved back piece makes it hard to quickly/easily resize.
Due to all the pdf problems, (thanks, new computer!) instead of the normal tutorial I'll have to refer you to the photos below and the instructions from: https://jenwrenne.files.wordpress.com/2016/06/ssa-week-2-fisherman-sandals.pdf
The brown ones are a nice, sturdy, basic sandal.  For the 4th of July version above, I thinned out the back piece a bit to make it less "rugged" looking and more dressy.  Feel free to do the same!
Are you thinking, "She promised us Paola Reina for the sew-along, what's this Wellie Wisher doing here?"  Well, she's just so cute I keep smiling every time I look at her and thought you might want a smile too. 🙂  I actually made the brown sandal pattern last year for my PR, and guess what?  It fit Willa!     Hmmm…what else can she share?
The sandals from week two and the espadrilles from the shoe school two years ago will fit her too: https://jenwrenne.wordpress.com/2014/05/09/shoe-school-102-espadrilles-and-toms/
The basic puff-sleeve blouse/dress from the sew-along 2014 fits her: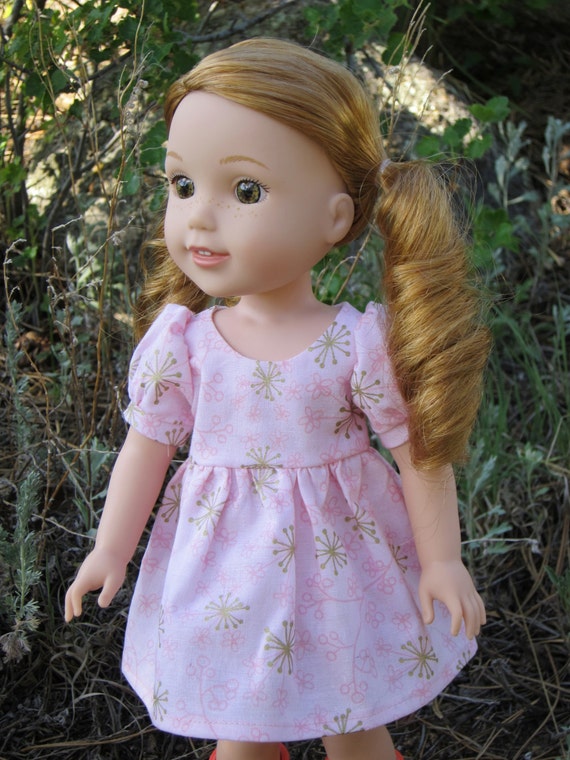 And this mock-smocked top can be made to fit too: https://jenwrenne.files.wordpress.com/2013/04/summer-sew-along-2013-part-1.pdf
I'm working on the pants pattern she's wearing above as well as some more really cute things for her…