Apologies that not all of these will pin to pinterest…you can pin most of these pix from my flickr page here:  https://www.flickr.com/photos/67465307@N08/
and here's a link directly to the pin for the dress http://www.pinterest.com/pin/241364861254932736/
This dress was originally produced as a cut and sew fabric panel for Sasha around 1979.  But you lost another ebay auction and can't make it…or maybe you have the fabric panel but don't want to cut into it because it's a collector's item.
Well, get out your fabric markers, we're going to make it!  What?  You don't have a Sasha?  Copy it at 77% to fit dolls like Corolle Cheries, and an AG size is included also.
I LOVE seeing photos of what you've done with my patterns!  It's been a while since any fairies have appeared here, so I'm happy to present this one from Hawaiikiki on etsy: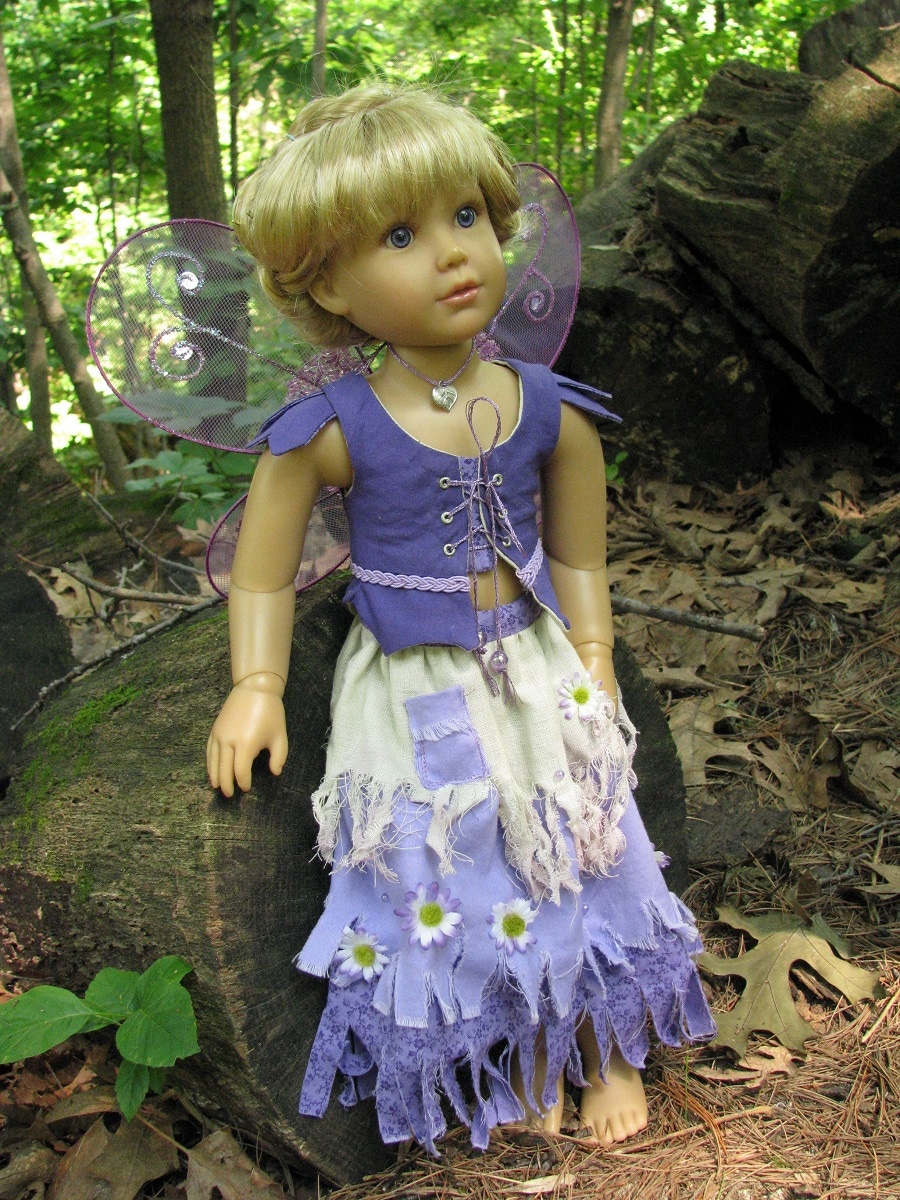 You can see a photo story (with text!) she did about it here: https://www.facebook.com/Mimijames51/media_set?set=a.10202481704947407.1073741840.1338264043&type=1
What else is new in the wren's "nest"?
Remember this?  I got a request for the smocked pattern on the left, but you may also have seen from a few weeks ago I've been doing a bit of machine smocking lately.
Well…these two things converged and a new pattern emerged.  Versatile?  Oh my goodness, yes!  Easy?  Well, if you have an embroidery machine, you can smock in the hoop in a fraction of the time with a TON of free designs included with the pattern.  Pattern and embroidery designs available here
Click to enlarge!  These are just some of the designs included in the pattern – see all the smocking designs here
Low yoke with or without easy collar and short puffed sleeves
High yoke with rolled collar and puffed sleeves, low yoke without sleeves
Shortened skirt, high yoke and long sleeves
And just for fun I made it without smocking too…Sasha's having an "Anne of Green Gables" phase 🙂
It also includes a smocked in the hoop bishop-style dress you can shorten into a blouse and make with short or ruffled "angel-wing" sleeves
Welcome Sasha 105 (long green dress) who was an anniversary present last week from my husband of 17 years!
I made her a little "Bauernkind" (Farm Child) Ensemble.  Shhh! don't tell her! but it is available for sale.  It's $45, and if you save me the trouble of listing on etsy/ebay, I'll pay shipping.  Interested?  Contact me at jenniebagrowski @ hotmail.com (remove spaces)
Includes red checked drawers that close with a drawstring (no elastic to wear out!), chambray skirt and muslin petticoat with featherstitching sewed onto one waistband and closed with hook and eye, black gingham apron, white cotton blouse with functional, slightly mismatched buttons, and shawl made from handwoven fabric.  Hat,  shoes, and doll NOT included.