I'll spare you a long story and just say I got some Disney animator dolls, and my favorite among them right now is Lilo.  She's really cute, and like all of them, has an OK price to quality ratio, by which I mean she was inexpensive, but her hair/clothing/accessory quality leave a lot to be desired, especially if you know how to sew and can see where corners were cut during construction.  She came in a cute, simple red dress with a leaf print, but the inside was not finished at all.  That's no big deal with a tightly-woven fabric, but this is synthetic and fraying already, and the hems are only turned once.  I feel like they could have heat-sealed the fabric at least if they weren't going to serge it together, but can't complain too much, since I got the doll on sale for $22.
If you're reading this blog, I'm reasonably sure you know how to sew too, so here is a pattern for you to make your Lilo (or any other animator doll) a better dress!  It's fast and easy, just the thing to help you recover from all those pleats in the summer sew-along! 😊 Leave off the sleeves to make her yellow/green dress from the movie or experiment with the suggested cutting lines to make all kinds of variations.  For many kids, having different clothing for their dolls adds a HUGE amount to their play value.  I've commented before that sometimes props/outfits can spark the imagination, and while it's perfectly fine for kids to practice structuring a narrative by acting out a movie with their dolls, it's even better to come up with their own stories/ideas/adventures!
This dress would be a fantastic canvas to stencil Hawaiian motifs like these which are available as a font here: http://www.pickafont.com/fontauthor/pokelele
More info about stenciling with freezer paper and maybe making a quilt for your Lilo here:
https://jenwrenne.files.wordpress.com/2015/05/stenciled-tea-dress.pdf
https://jenwrenne.files.wordpress.com/2017/09/nanea-quilt.pdf
Don't have an animator doll?  I grabbed a flyer at the store that said there's going to be a sale July 12-16 that you can get 25% off with coupon code 102PE50462500 which would make the dolls about $20.  (I have no affiliation or financial interest in this, just trying to help you save a few dollars if you want!)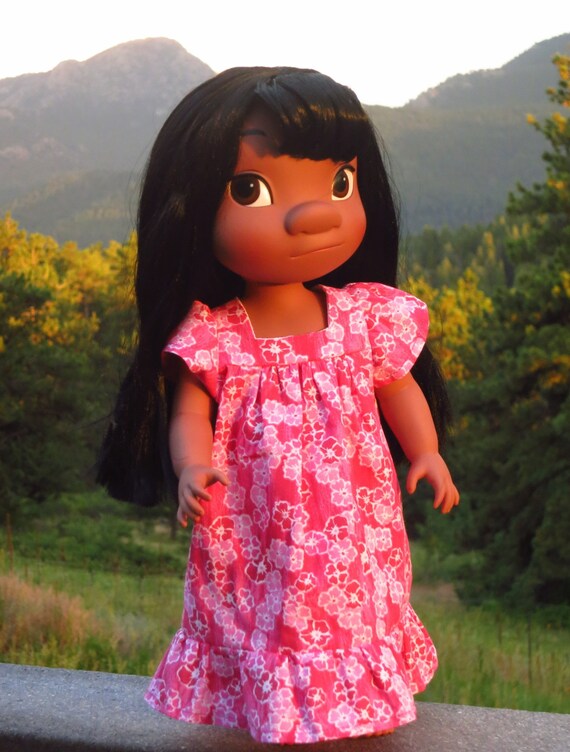 Speaking of easy alterations, if you already have the Island sewing pattern set you can copy the AG version of the muumuu at 80% to fit Lilo!  Before you go skipping gleefully down to the copy shop with all your AG patterns in hand though, note that their body shapes are different, so it won't work with everything, especially pants, fitted bodices and possibly sleeves. Also note that the earlier editions of the Animators are smaller in the torso too, so if that's who you're using it for, you should close the back with an overlap.  More about resizing and what fits them in a future post!
To reiterate…this is the same pattern that comes in the Island sewing pattern set with the addition of extra pattern pieces for 16″ dolls.