I know it's February, just bear with me!  A couple of days into January, I was flipping through the radio and an annoying DJ was prattling  that she had made a resolution to lose weight and then ate something yesterday that made her give up on everything.  I rolled my eyes and flipped to another station but have been thinking about that.  We make resolutions in the first place because we realize that making some changes in our lives could potentially make us healthier or happier, but there is a big difference between a WISH and a RESOLUTION.  A wish is, "I should lose weight, I'm totally gonna do that this year!" and that's far different from a resolution, which needs to be an ongoing process maybe involving multiple steps and, potentially, a commitment to a different way of living.  If, for example, you decide to make a change for your health, like starting a walking program, and then it snows so you stay inside, your resolve to get back outside tomorrow and continue is what makes for a resolution instead of a wish.
I'm saying all this because my resolution was to add more yoga to my fitness routine, which got completely derailed by an injury.  I injured my foot and the subsequent changes to how I walked started giving me back pain and everything is off track now.  Even though I'm required to rest right now, rather than just giving up on my goal, I'm eagerly awaiting the day I'll be able to get back to it.
Dolls don't have to let pain or weather or distractions deter them from their goals, though!  What about choosing a doll and dressing or accessorizing them as a reminder of something you're aspiring toward?  A smock and paintbrush if you need a reminder to practice your art skills, an ethnic costume for a foreign language you're learning, or in my case, a yoga outfit to remind me I WILL get back to it!
My reminder is:
Pants with this cuff detail were all over my pinterest searches for a while, (anyone else hate promoted pins?) but I thought they would be great for yoga.  You might have other ideas for them, like gardening pants to remind you the snow will melt eventually and you can get outside again, or make all the different pieces from different quilting fabrics to remind you of that complicated quilt you're working on piecing.  Share your "resolution outfit" here!  This pattern will fit 16" dolls like Girl for All Time.
Some other things I've been up to include BOY CLOTHES!  This pattern will fit AG size boys and includes variations to make all the shirts you see here.  It should cover any button-up shirt need you have for boys, and of course, works for girls too!  There are options for a casual collar version or a dressier stand collar and variations for straight or curved hems.  Several sleeve options are included for plain or dressy, cuffed or hemmed, short or long.  What can you do with this pattern?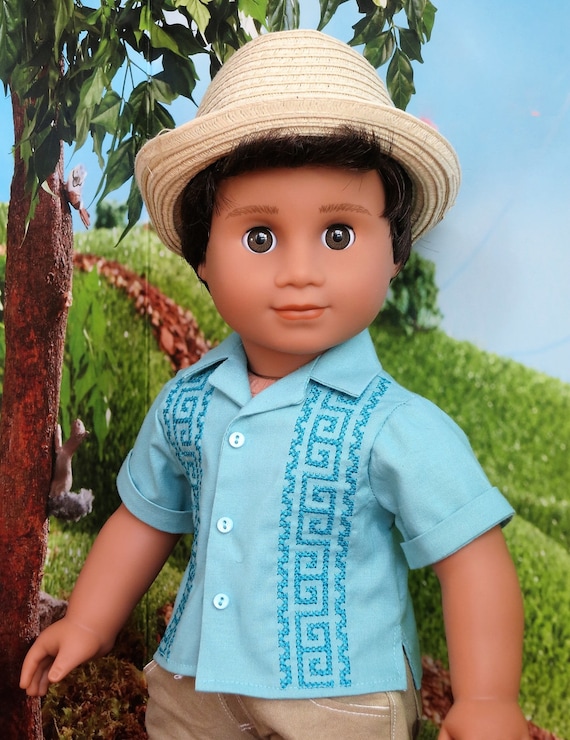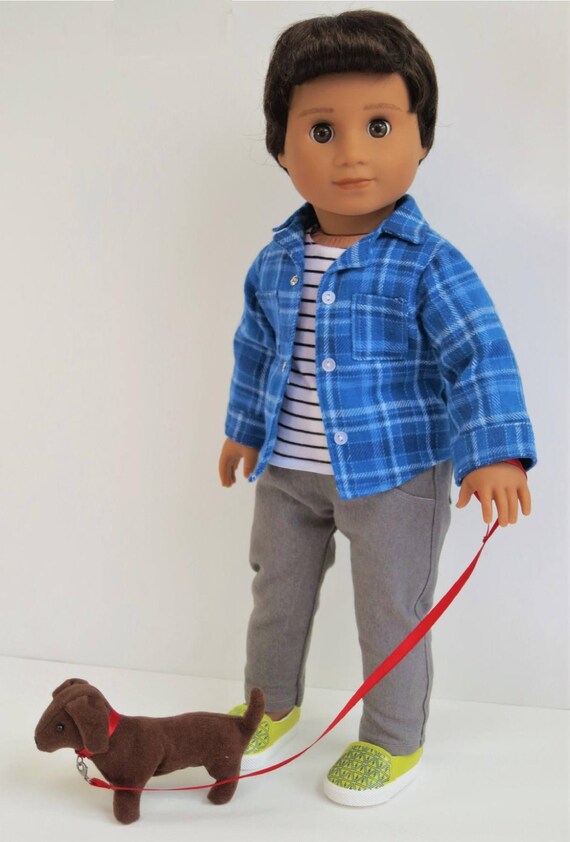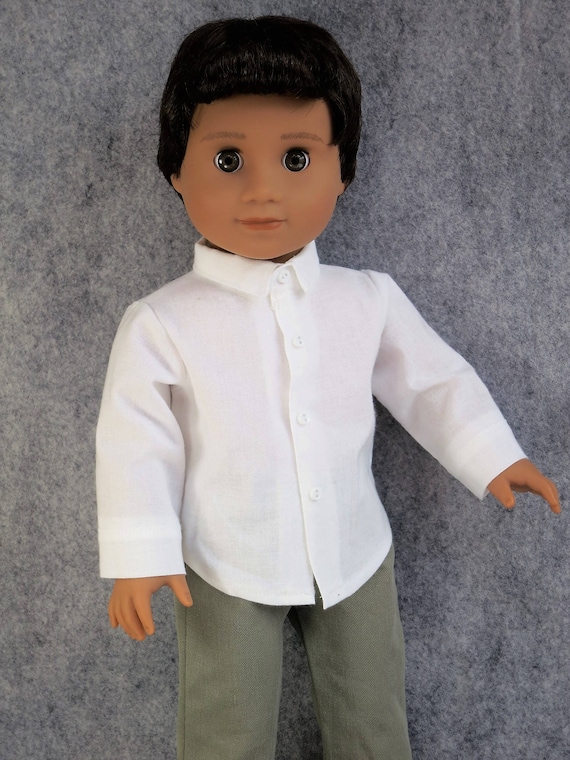 This shirt pattern coupled with this pants and denim jacket pattern will help you on the way to a ton of great combinations for boy or girl dolls!
By request, the Lederhosen were resized for AG.  You know I'm all about versatility, and if you're thinking they only work for German folk costumes,  I invite you to think outside the box.  A number of European folk costumes for boys use this kind of pants or something similar, because many folk costumes were variations of "regular" clothing available in the 18th century.  For that matter, try them as part of a historical ensemble for Felicity's time.  Paired with a very full shirt (that I might be talked into making a pattern for if anyone is interested..?) that outfit could work for a fairly wide historical range.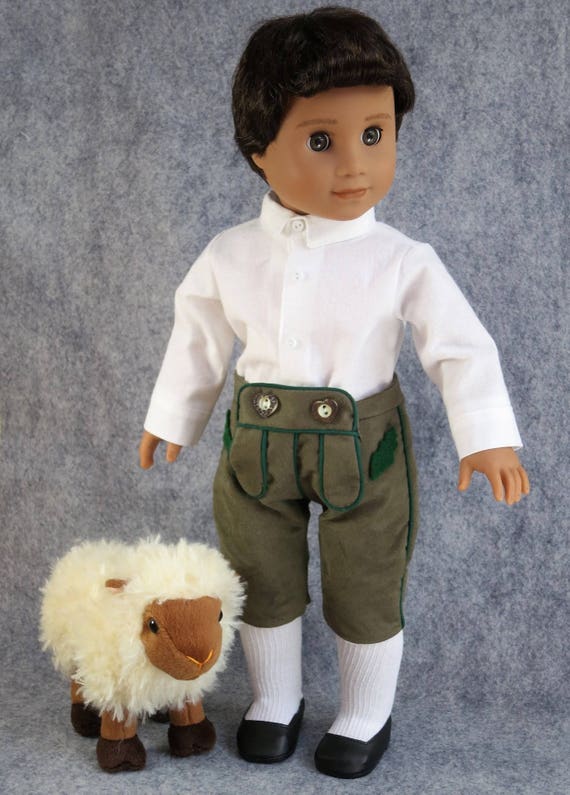 The adorable sheep with him is Charlsea's from Maplelea
What?  The SSA already?
Well, it's "only" about 3 months away!  Yes, I already have some ideas, but as in the past few years I'd like to get your input!  For newer followers, the SSA is the Summer Sew-Along, where we have a variety of patterns on a theme and everyone shares pix of their creations and there's usually a bonus pattern as a prize if you finish everything!
I'm focusing on AGAT dolls this year, that's not up for debate, so don't even try 😉   Depending on the fit of the patterns it may not be too hard to resize them and if that works out, there will be directions to do that or maybe a separate set of pattern sizes available on etsy.
The SSA originally started with a mix-match wardrobe, and although that's not stayed the case, it might be fun to get back to something like that this year.  There are a couple of options that are historical because these dolls just look so good in period clothing.
There's also a vote for the timing, because some people would like to get their sewing done in May to either avoid vacation time or have a summer-ready wardrobe, while others would like something to do while stuck in the house with the AC on once it gets warmer.
The first option is an Edwardian wardrobe with outfits and possibly some accessories appropriate for different activities an Edwardian girl might have engaged in during summer
The second option is a modern (possibly mix-match) wardrobe for spring/summer
The third option is a complete, upper-class Tudor/Elizabethan outfit including all components from undergarments to outer dress, shoes and cap. These patterns would be as authentic and detailed as I can make them for their size, so suitable for intermediate seamstresses and above.
The poll will be open for a week but the results will be a secret until the SSA actually starts!