Happy Thanksgiving!!
I am so thankful for all your support and encouragement!  The coupon code 20OFF20 is active in my shop from now through Monday to help you get a head start on your holiday sewing!
This is from an early Nancy Famosa catalog.  She's a doll that was made in Spain starting in the late 1960s.  It says, "I'm Nancy.  I want to be the most elegant of all the dolls you have.  I present to you all the ensembles with which you can make me happy.  How happy I will be if you give me all of them!"
Wow.  Talk about presumptuous!  The parents should not just buy the child a doll but ALL her outfits too!
I don't think anyone could argue that fashions of the 1950s and early-mid  1960s were anything but stylish.  Once you get to the late 1960s through the 1970s, it's a whole different story.  Most of us don't have to research any farther than our own family photo albums to find clothing from that time period that, in retrospect, we might label "hideous", no matter how stylish it was at the time.
In the US at this time, Nancy's counterparts would have been Crissy and her cousin Velvet, and when you compare the two, Nancy's clothing really did look a lot more elegant.  I started doing a little research and realized the 1970s did have a certain style and it was THE era for handmade stuff and decorative clothing!  There was actually a toy series called "The Sunshine Family" and their accessories included a craft store with a spinning wheel and pottery wheel!  They had a truck they drove around to craft fairs with and all their sets came with little booklets for kids to make miniature crafts from household materials for the dolls to "sell".  They get my vote for "BEST TOY EVER!" even though they were a little before my time and I never played with them.
OK, back on topic.  I recently got a reproduction Nancy Famosa called "Yo quise ser tenista".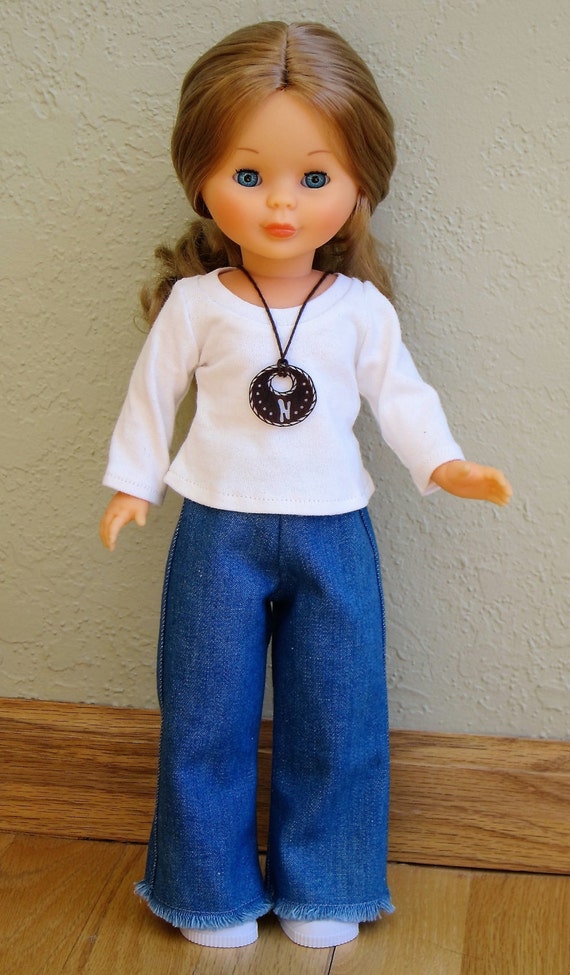 The 1970s were the first time pants were really considered appropriate women's attire for any occasion, and Nancy had a profusion of them!
Elastic waist pants are great for doll garments intended for kids, but not so much for adult collectors.  Firstly because after many years the elastic eventually stretches out and your garment is ruined, and also because it can make for a bulkier waist, which limits what type of top you can pair with the pants.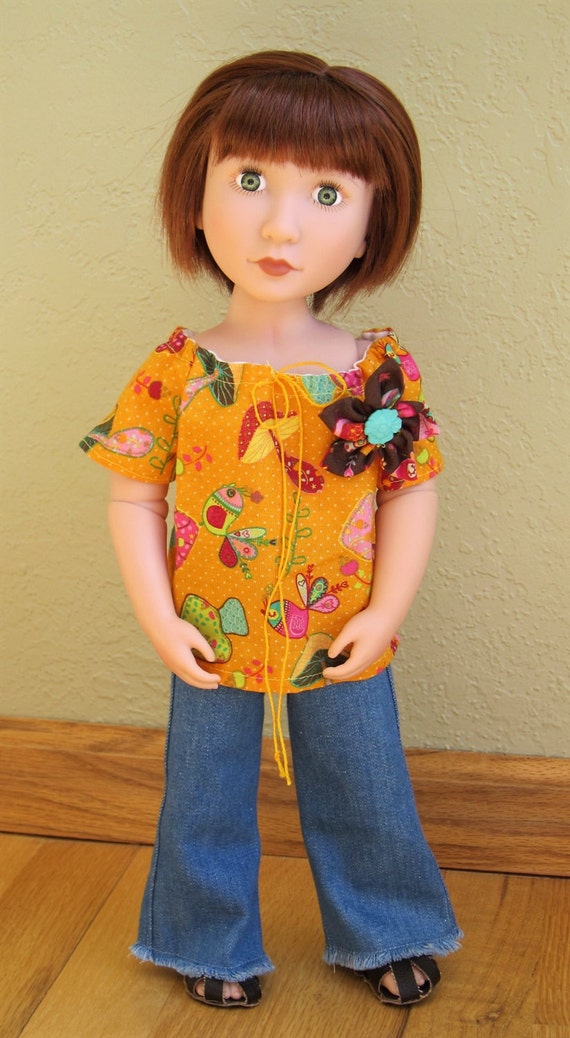 Perfectly-fitted non-elastic pants can be just as difficult to draft for dolls as for people, and I've avoided it for my AGAT Clementine by telling myself it wasn't appropriate for her era.  Someone requested wide-leg pants for her Sam a while back, but I wanted a nicely-fitted waist, so it's taken a while!  Awesome news:  AGAT and Vintage-Repro-Nancy can share pants!
More awesome news: Two versions of well-fitting 1960s-70s pants are now available in one pattern here
The pattern includes two versions – one with slightly-flared legs and and one with super-wide legs that you might call "palazzo pants" or "elephant bells" depending on your age.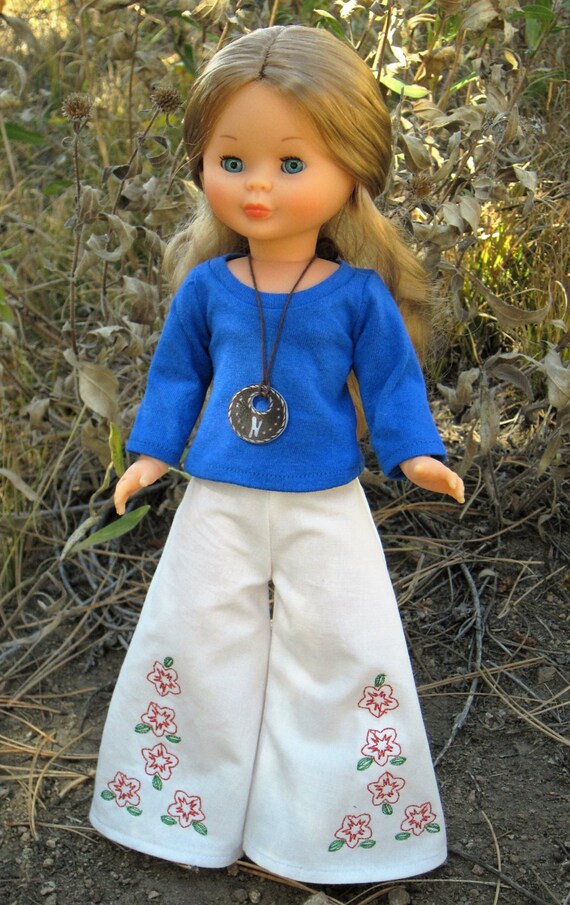 They make for a perfect repro of the 1970s "hippy" outfit for Nancy, who some of you might have guessed will be making some appearances on the blog.  The original pants appear to have had painted flowers, but I digitized them for machine embroidery.  The .pes file is free with purchase of the pants pattern – just put in "notes to seller" that you want it!
In case you're wondering how big she is, here is a comparison photo:
L-R 1970s Sasha, Fisher Price My Friend, Nancy Famosa Reedicion, Kimberly, New Nancy Famosa, Crissy, New Kidz n Cats