***Important Etsy note:  Etsy's been having issues since July 1 with processing payments if they're not done through paypal. Their policy is not to make the files available to the buyer until the seller has received payment. People using credit cards and apple pay have not been able to download their patterns immediately.  I apologize on their behalf and as an etsy seller who prides myself on good customer service am VERY upset about it.  If you're having trouble downloading a pattern you purchased from me on Etsy during this time please contact me!***  I would suggest you pay through paypal if you're using etsy, or I can always send you an invoice if you'd prefer.
Oh wow!  It's the end of the sew-along already?  Well, I saved the best for last!
This gorgeous wrap dress has an Asian feel in these fabrics with a wide obi-style belt, but also looks adorable in any colorful cotton print!  Why is it the "best" dress of the sew-along?  The entire thing can be outlined in PIPING!  My favorite trim of all time!  If you're intimidated by piping, this dress is a PERFECT choice for you to practice your skills because of the long, relatively straight seams AND the fact that you don't need to line it afterwards.  If you're a really new sewer, you can use bias tape instead of piping.  I'm almost finished with a tropical-looking one for my AG and this pattern should be available in all the major sizes in a week or two.
Download it free in Paola Reina size here for this week only!
Please post your creations in the Wrenfeathers group here: https://www.flickr.com/groups/2825314@N20/.  I'm hoping to  find time to really look at what everyone's done and do a retrospective next week!
In other news, I've been seriously playing dress up with my Wellie Wisher to see what I've already made that fits her.  There are a lot, and here are a few that are especially cute – note that these are all previous patterns you may already have!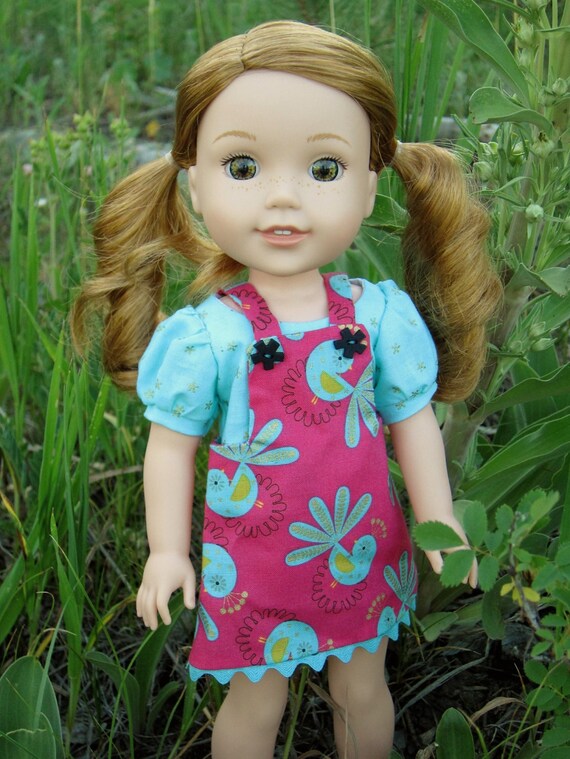 And then, of course I had to do some NEW things too!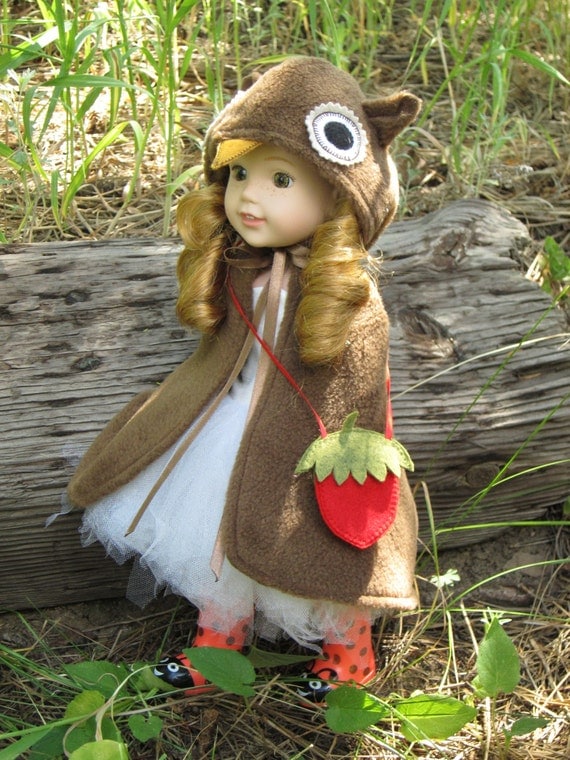 Ballerina dress, Owl cape and treasure pouch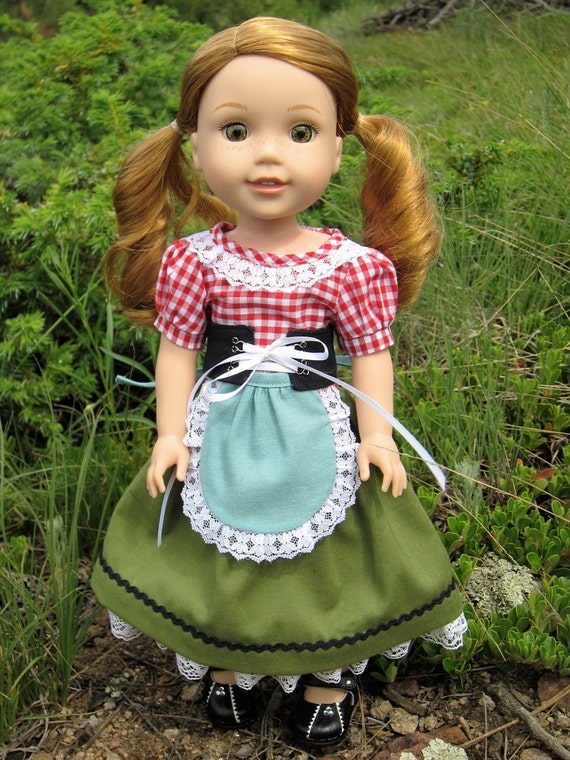 Storybook character dress (this is a variation of the puff-sleeve blouse pattern) with apron and corset
I was SO hopeful the H4H fairy patterns would fit them, but the bodices are a bit too tight.  You can, however, use the skirts, wings, jacket, etc. from the H4H fairy pattern with the bodices from the WW dress up box pattern.  
What about princess dresses?
  I drew out about a dozen princess dress ideas, intending to include one in this collection and then couldn't decide which one to make.  Renfaire?  Disney?  Historical?  Ethnic?  So I gave up and decided the collection would be fine without one.  Then I had a dream (yes, I'm such a dork) that Willa was hunting all through her dress-up box and turned to me with a heartbroken little face and said, "There's no princess dress?"  So one or more of my sketches WILL become a princess dress pattern in the near future because I can't bear to see her looking so sad.  🙂