You have summer sew along questions?  I have answers!  Keep posting your photos for each week here.  The pattern for week 1 is still up here so you can join in the fun if you haven't started yet, but these downloads will disappear on Sunday so get them now and start sewing!
When you've finished week 4, the super simple summer sew along submission form is here.  All you need to do is put in your email and a link to each week's photo.   Then I'll email everyone on the list the pattern for week 5 AND a really nice bonus pattern where you can use your new knit-sewing skills.
And in new pattern news…
As you may have noticed, I'm now the proud owner of not one, but TWO Paola Reina las Amigas dolls!  It's rare these days to find dolls made in Europe, and even rarer to find companies who respond to your inquiries quickly with good customer service, so PR has both of those things going for it and I'm hoping to add a few more of their dolls to my collection later.
Unfortunately for me, but good for them, both dolls came in soccer uniforms, which meant they needed new clothes, leading me  to peruse the PR website for ideas.  You might remember Liu's outfit from a few weeks ago, and after enlarging the pic below and seeing the little matryoshka embroidered on the bodice, the cuteness was too overwhelming to resist and I just had to make something like it for my Cristi!
Image above from PR website, where you can get Cristi in this dress
 So many commercial doll dresses have very basic forms and what makes them unique is their fabric, color, trim, etc.  As I was sketching out ideas, I started thinking…hmm…what about a collar like this?  And puffy sleeves?  Oh, wait!  I could use this to…  Things spiraled out of control and became a new pattern concept…
The Infinity Dress 
This pattern has a variety of sleeves, collars, and skirts to fit the basic bodices shown below.  It's called the infinity dress, because it's infinitely versatile. From these basic pieces you can make just about any style of basic dress you could want for a huge variety of dolls.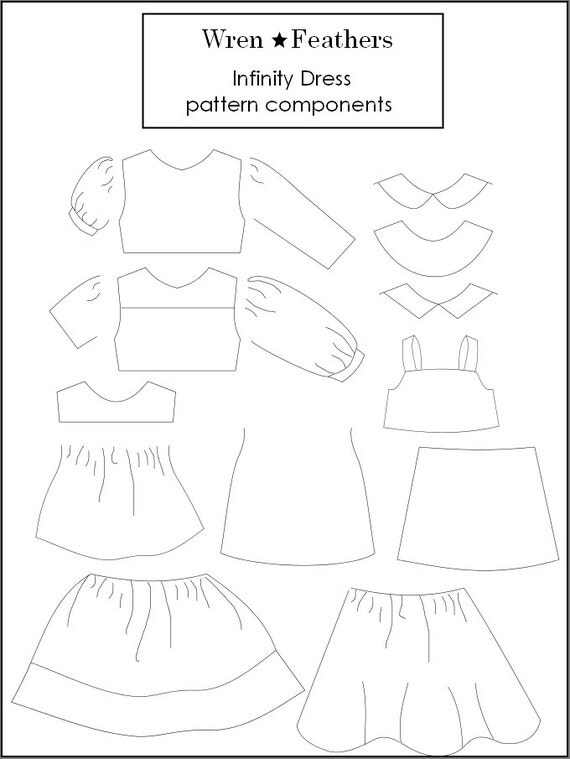 Those are just basic pieces, right?  So what's different about this collection?  Most sets of patterns I've ever purchased that claim to fit multiple dolls start with one sloper and just increase it by a percentage based on height like this:
There's no guarantee it will fit your dolls of that height, because all dolls have different proportions, so you either get lucky and it fits, or you toss the pattern away in frustration.  
MY new pattern was re-designed for dolls with each different (child) body type that you've seen on the blog.
There are eight different pattern sizes are on separate pages, so you can just print the ones you need, as well as a fitting guide to help you use them for other dolls too.
These were my main models but the pieces will also fit all the dolls below and more:
All these dresses were made from this pattern: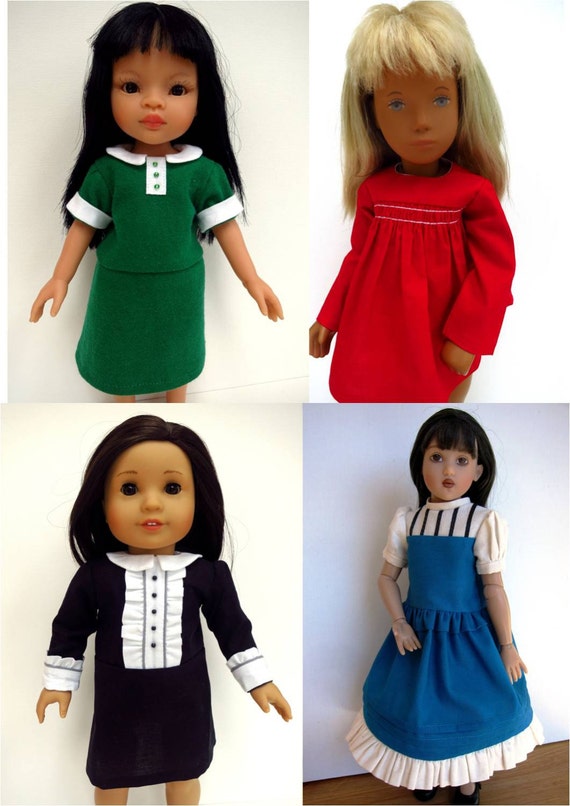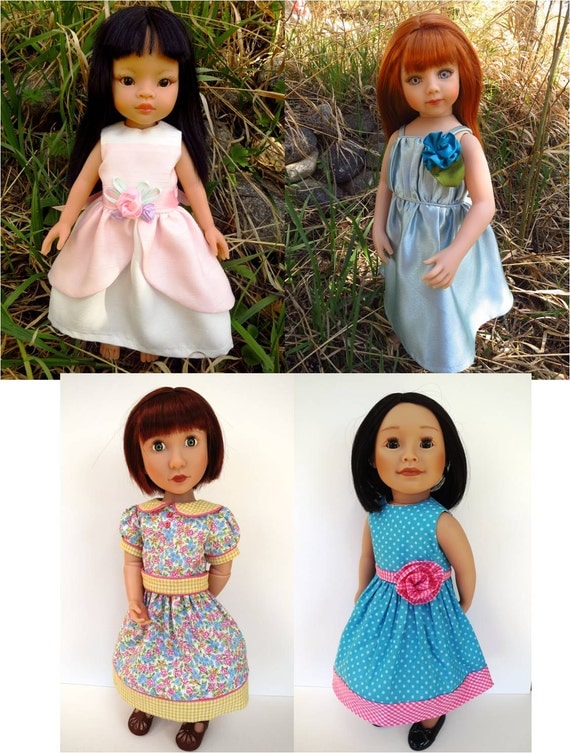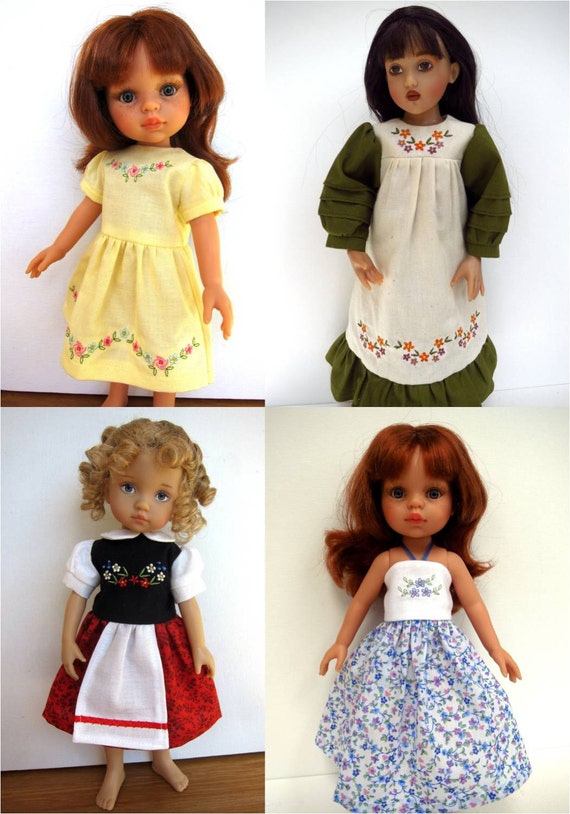 OK, that alone should have you running over to etsy to get the collection.  Need another reason?
Included in this set you will get as .pdf files:
Croquis and sketching ideas
Pattern pieces
Fitting guide
Construction directions
Special decorating ideas and tutorials
Photos of outfits for inspiration
That's almost 150 pages of instructions, inspiration, patterns and eye candy!
Need another reason?  How about free machine embroidery designs?
One of my other recent projects was coming up with a collection of machine embroidery small and dainty enough to be suited to smaller doll clothes.  There are all sorts of combinations of heirloom-style florals you know from hand embroidery, like french knots and bullion-style roses. See what's included in the embroidery collection here.  If you have software that lets you combine/edit designs, you'll be happy to know these are all "pre-cut" as tiny separate pieces so you can move them around easily!
Some designs from this embroidery set (.pes format only) are pictured on the dresses above, and can be used on anything, but fit so well with this new set of patterns I'm offering it FREE WITH PURCHASE of the new infinity dress collection.  Just put in the "notes to seller" box at checkout that you'd like the embroidery files!
Purple dress made from free pattern here: https://jenwrenne.files.wordpress.com/2014/06/contrast-pleat-dress.pdf
And bodice was enlarged to fit Little Darling, (~120% maybe?) and paired with a rectangular skirt.