Thank you to everyone who entered the tiny doll sewing challenge!  There were around 30 entries (see some of them here) and I'm not good at making decisions, so thankfully my mom agreed to choose the winning entry!
My mom chose Barb's as the "absolute cutest" saying, "It just jumped off the screen!".  Things seem to jump at her all the time, like yarn that "just jumped out and said, 'buy me!' " 🙂
Unfortunately,  the pic of the winning dress wouldn't paste, so here's the link: https://flic.kr/p/qP9cxL
The use of two coordinated prints, and adding a third color in the buttons and rickrack tied this all together, and the bandana helped give it a "garden" feel
I was basing the judging on uniqueness and creativity, and would like to share some other fabulous ideas in the entries:
A similar idea to Barb's was this one:
Esyram added an applique on the skirt, and a border along the bottom that looks like a separate skirt. She did a really nice job positioning the flowers on the straps to look like buttons too!
Little girls LOVE ruffled dresses, and Pauline's dress, along with the way this picture was set up told a story of a little girl who felt as beautiful as a princess in her new birthday dress!
Sorry, the next one wouldn't paste either, here's the link:  https://www.flickr.com/photos/58342961@N08/15658357384/in/pool-2754125@N20 
There aren't a lot of dresses that look equally pretty in front and back, but Lynda's was an exception.  The tiny buttons and roses were an extra special touch.
I like this outfit for the creative use of fabric and trim to give it an ethnic feel.  Also I like the doll! 🙂 I spent many happy hours playing with these "Skinny Ginnys" of the early 1980s.  They were my Barbie substitute, because my mom thought her unrealistic figure was inappropriate for a little girl to play with and refused to buy her for me.
I love fairies…and I love tiny Betsy…and Anna combined them both!  I'm running to the sewing room now to make MY Betsy a fairy outfit too! (OK, actually I'm going to work, but if I didn't have to work today, that's what I'd be doing!)
As the "grand prize" winner, Barb will get all of the new Ten Ping patterns now available in my etsy shop here and here and here
And the ones shown above as my favorites will get my favorite Ten Ping pattern (shown below) called "Shanghai Winter"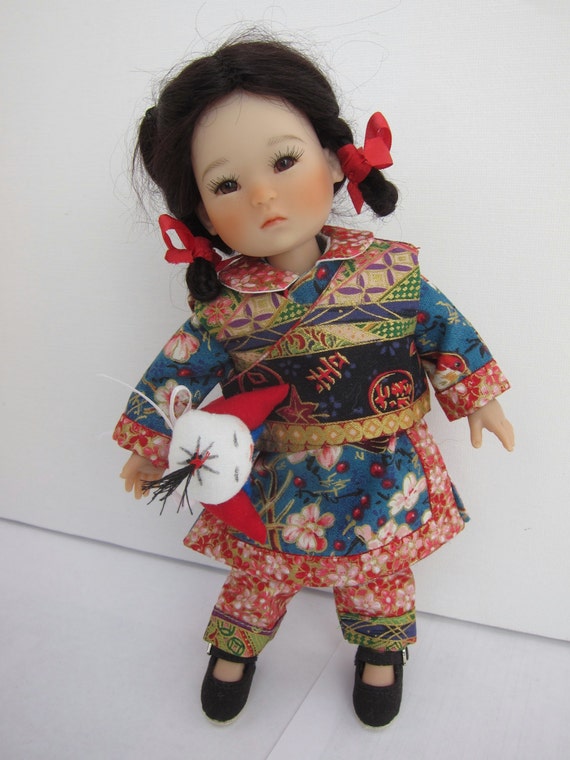 Because dolls holding dolls look SO cute,
These ingenious little dolls are made from the simplest pattern imaginable, just a flat circle and rectangle that turn 3-D with a few stitches and some stuffing.  It would be very easy to scale them up as toys for larger dolls!
In Japan they are called O-sarukko, but the same style of doll is also popular in China, not necessarily as a plaything, but often decorating other things like pincushions.  If anyone knows what they're called in China, please post a comment!