If you like to take pictures of dolls, you appreciate how important jointing is.  The picture above is the patent for Schoenhut's spring-jointing system.  It was revolutionary at the time, (1910s) and it's sad that it didn't become more widely used, since it's common to see those dolls still able to hold their poses even after more than a hundred years!
If you like to take pictures outside, you also appreciate durability, so that after you pose them climbing a tree, they don't get destroyed "jumping" out of it when you step back to take the picture.  Schoenhuts had wooden heads, whose paint, I'm sorry to say, was not as good as their jointing.  Many of their faces now look ghastly, and it's probably a very hard decision for their owners as to whether or not to have them repainted.
Can I share a cute story about doll durability?  Several years ago when my niece was younger, she brought her AG doll to a family function, and my great aunt was moved to reminisce about a doll she had as a child.  "When I was younger I had a beauuuutiful doll," [as one of 13 children, it was probably the only new doll she'd ever had] "and I left her out in the pasture one day and a cow stepped on her head and broke it."  [This would have been the early 1920s  maybe, and they lived on a farm.]  "I ran into the house crying and Ma took down the catalog and said, 'We'll send for a new head.' "
I like that story for a few reasons.  First, the simplicity of childhood from that era.  I'm willing to bet a lot of money that the only clothes that doll ever had were ones sewn for her at home by my great aunt or another family member.  Instead of soccer practice, swim lessons, and playdates, that doll's owner had a bunch of farm and household chores to finish before she was allowed the privilege of playing with the doll, and that play consisted of  "adventures" or tea parties with acorn and leaf cups and saucers outdoors in the cow pasture, rather than manipulating a pile of accessories from the AG store.  I also like the "fix-it" mentality, which I do realize was a necessity under the circumstances, but how many plastic dolls have you seen at garage sales or thrift stores that were sadly abused and then discarded for a newer, better one?  (If you want to fix them up – Here's how )
Anyway, the USPS made a replica of two Schoenhut dolls in 1997, and I recently acquired one.  It was originally dressed as a boy, but reminded me a lot of the carved-hair girls at the time like this one: 
[photo from Pinterest]
So "he" got a dress and became a "she" because I love little girls' dresses from the 1910s.  🙂
In case you're wondering, "Schoenhut" (haven't named her yet) is a slim ~17″ doll.  By "slim" I mean more like a BFC than KnC, but since fashions of that time were loose, they can easily share.
"Schoenhut" stands alone and poses great!  The head is a little wobbly, probably DH needs to look into that…
Speaking of joints…did you know Tonner released a new jointed 10″ body this year for Patsy/Ann Estelle?  There's also a new girl with this body named "Half Pint".  And since someone else I know bought three new dolls in one week, I felt justified getting one for the month 🙂  Yep, I'm sewing for her too!  (See more pix of her here)
Her poseability is fair to good, although her head doesn't tilt and she has trouble standing alone on uneven ground outside.  So does Minouche, that's why the AG is holding their hands 🙂
I didn't plan on it, but Half Pint's adorable, chubby body is a perfect little sister to the AGs, so I drafted the big/little sister dresses above, and then resized also for KnC/Sasha and H4H/Cheries.   Then the dress on Galina and Schoenhut above became a prototype for this one:
You can see all the new patterns here . 
Wow, this post is getting long!  The summer sew along is in full swing, and you can marvel at everyone's creativity here
Everyone who's participating and sends me their photo link by midnight tonight gets this easy jumper (AKA pinafore dress) pattern for their 13″-14″ girls: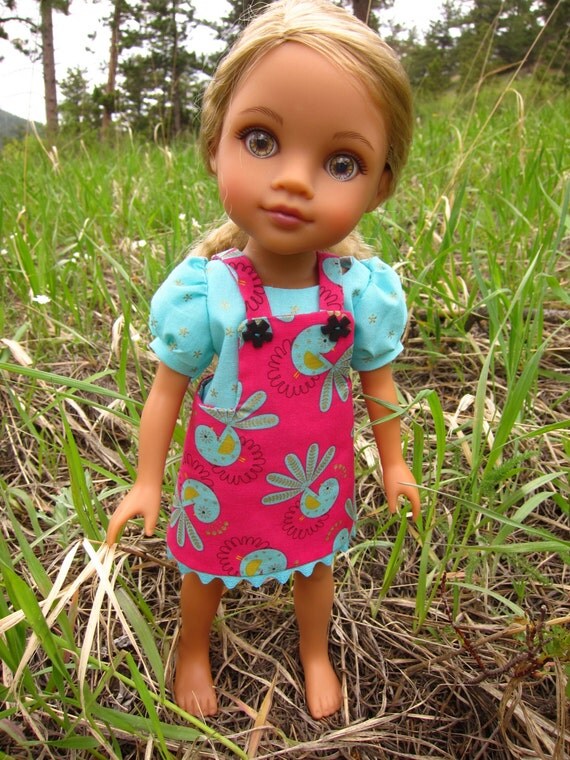 If you're participating, thank you!  If you missed last week, click the photo above to get this pattern on etsy for all sizes and jump back into the sew-along this week!  Post your pix to flickr and send me a link by Thursday, June 26th.  Next week will be a 4-way reversible dress/pinafore…I know you'll like it!  🙂